Taxes Have Consequences: Arthur B. Laffer, Jeanne Sinquefield and Brian Domitrovic
Sep 20, 2022 @ 5:30 pm

-

6:30 pm

Free
Please include the first and last name of each guest planning to attend. 
About The Book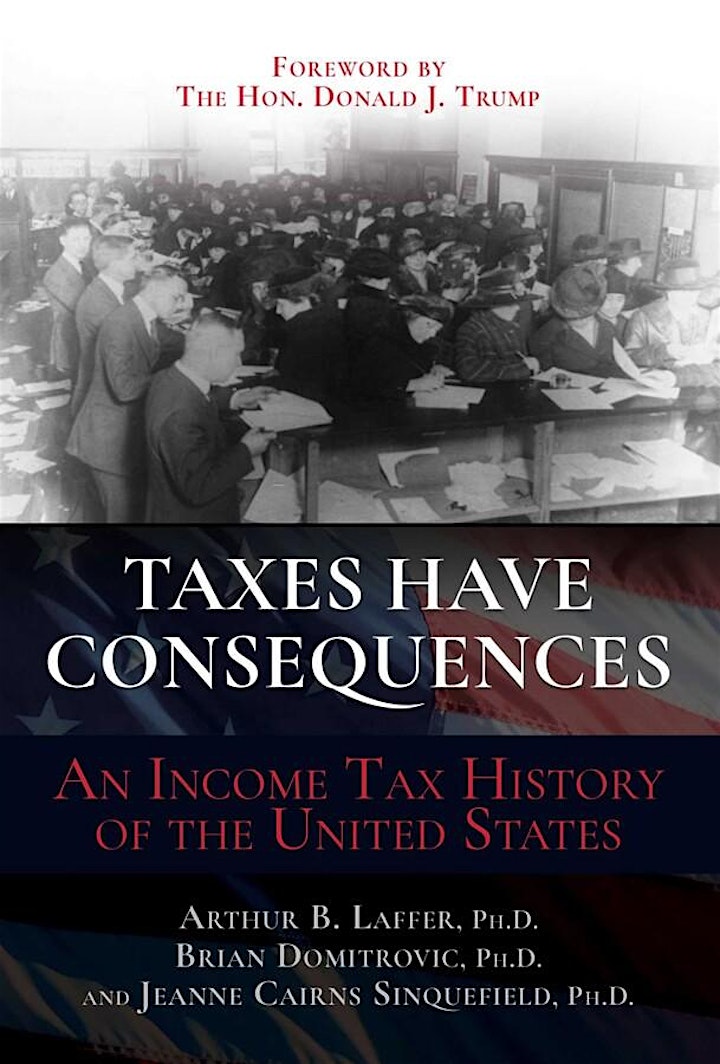 Authors: Arthur B. Laffer, Brian Domitrovic and Jeanne Cairns Sinquefield
The definitive history of the effect of the income tax on the economy.
Ever since 1913, when the United States first imposed the income tax via constitutional amendment, the top rate of that tax has determined the fate of the American economy. When the top rate has been high, as in the late 1910s, the 1930s, 1940s, 1950s, and 1970s, the response of those with money and capital has been to curtail real economic activity in favor of protecting assets and income streams. Huge declines have come to the economy in these circumstances. The most brutal example was the Great Depression itself. When the top tax rate has been cut and held at reduced levels—as in the 1920s, the 1960s, in the long boom of the 1980s and 1990s, and briefly in the late 2010s—
astonishing reversals have occurred. The rich have brought their money out of hiding and put it to work in the economy. The huge swings in the American economy since 1913 have had an inverse relationship to income tax rates.
About the Speakers
Arthur B. Laffer is the legendary founder of supply-side economics and economic advisor to President Ronald Reagan and Prime Minister Margaret Thatcher. He was awarded the Presidential Medal of Freedom by President Donald Trump in 2019.
Jeanne Cairns Sinquefield helped pioneer index-fund investing as executive vice president and head of trading at Dimensional Fund Advisors.
Brian Domitrovic is the author of five books, including the landmark history of supply-side economics Econoclasts.
Reprint permission for Show-Me Institute publications and commentaries is hereby granted, provided that proper credit is given to the author. We request, but do not require, that those who reprint our material notify us of publication for our records: info@showmeinstitute.org.
Mission Statement
Advancing liberty with responsibility by promoting market solutions for Missouri public policy.